Outsport for EuroGames 2019 main conference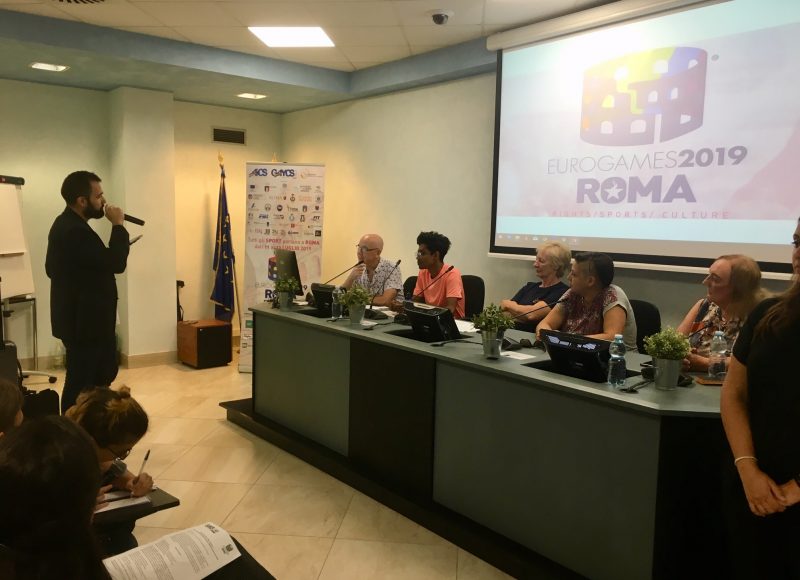 The 10th of July, in th European Union seat of Rome, Outsport has held the conference on "Sport as the next challenge towards gender equality and LGBTI-inclusive communities". It was the main cultural event of EuroGames 2019 organized in Rome from Aics.
The program had the reports from 3 different tematic workshops on "Transgender and Intersex people in sport", "Sexism and gender equality: how to enhance cooperation between women and athletes in Europe" and "Racism and double discrimination based on homopbia and transpfobia", held on the previous days, and other contributes from national and international Lgbt athletes and activists.
After the greetings by the President of Eurogames 2019, Adriano Bartolucci Proietti and by the Vice Ambassador of the Netherlands to Italy, Dewi Van Der Weer, the conference beagn with a first roundtable "From Stonewall to EuroGames: the role of sport in the upcoming intersectional challenges of the LGBTI movement", moderated by the Outsport project manager, Rosario Coco.
Pepe Garcia and Annette Watcher, respectively former and actual co-presidents of ELGSF (European Lesbian and Gay Sport Federation) talked about past and present of the Lgbti sport movement with the important results accoplished in therms of visibilty, quality of life, inclusion and education thanks to the contribution of LGBTI sport organizations in more than 25 years of EuroGames and the challenges to takle for next years, while Katherine Burrows, activist for Transgender Rights, Jelena Celebic, activist from Femslam football and Ambid Zaman, from Action against Homophobia Germany and delegate for Europe in ILGA WORLD, focused on some important challenges for sport inclusion and lgbti athlets such as transgender issues, sexism and homphobia in sport in Estaern European countreis and challangees connected with homophobia, youth, racism and migration
Extremely intersting and detailed was then the focus on legal perspectives on sport inclusion, expecially of trans people held by Giovanni Guercio, lawyer specialized in intersex and trans issues in Italy.
The second roundtable on "LGBTI people in sport: from new data to the challenge of visibility" moderated by Andrea Maccarrone, from Outsport team, was the occasion to present and comment for the first time to the public after the publication of the full report of Outsport Survey on LGBTI expereince in sport, last 17th of May.
To present and give the data Klaus Heusslein, former co-President of EGLSF and associate spokeman of German Sport University of Cologne research team, while Sarah Townsend, EGLSF General Secretary and Alexander Carollo, transgender activist, pshycoterapuist and ex basxet professional athlete commented the data reveling the persistence of a big problem of homphobia in sports, on the high rate of people deciding to abandon sport because of discrimination and on the importance of educational projects and role models to tackle the problem. Carollo also explained the experience of trans athletes that, according with the survey findings, face an even worse risk of discrimination, violence and exclusion in sport compared to the LGB ones.
The second part of the conference was open by some case history cases form Italian Lgbti athlets and actvists, and from the report of the workshops held in previous days. László Földi, trainer and educator, reported about the "Outsport Training" the non forml education trough sport trining and guidelines formulated in the framework of Ousport to talke homophobic and transphobic discrimination trough sport and sport games-activities.
Very strong and relevant, finally, the third and last roundtable on the "Experience of LGBTI and queer athlets with disbility and paralympic sports", co-organized with LEAP Sport Scotand and moderated by Hugh Torrance – Co-President of EGLSF and Director of Leap Sport Scotland. Stefan Hoggan, paralympic athlete, Caludia Gennaro and Serena Solimene, Italian women's deaf Volleyball team players could talk about their experience of sport and inclusion and the challenge for a sport as a safe, non discriminatory place for everybody.