Oustport at ILGA-Europe 22nd annual Conference in Brussels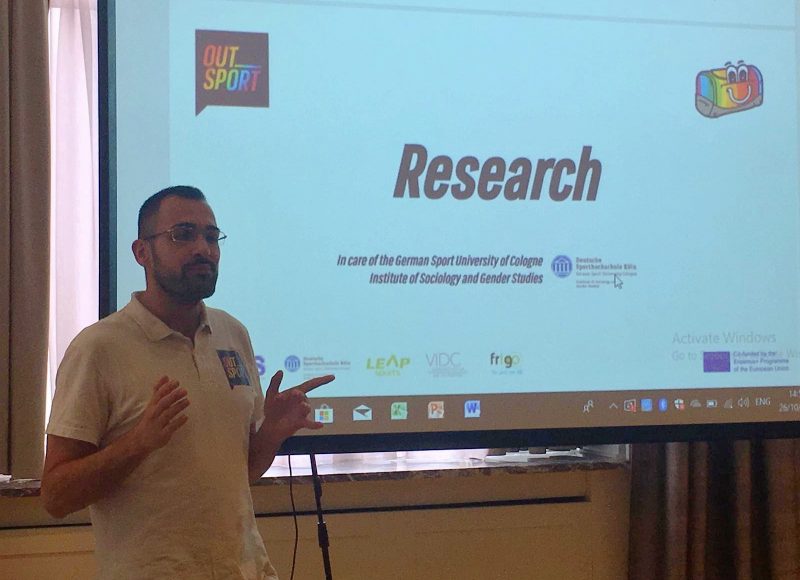 ILGA-Europe – the largest and most important umbrella organization in Europe with its 490 media organizations from 45 different countries – has just held its 22nd annual conference in Brussels from 24 to 27 October.
At the conference, good attention was given to sport issues and in particular to Outsport, represented by its coordinator Rosario Coco both in the section dedicated to the presentation of the projects and in a collective workshop titled "Fighting Homophobia in Sport", held by Annette Wachter, president of EGLSF (the European network of sports associations) in cooperation with  Jelena Celebic of the Serbian association Feslam Football, and  Pavel Klymenko of Fare network.
The declared scope of the workshop was to address the problem of inclusion of LGBTI people and women in sport, fighting homophobic and sexist biases and pushing sports organizations and institutions to put in place and improve their policies making them effective.
During the presentation Watcher explained the role and the value of the LGBTI associations in the sports field, of EGLSF as a network and of the Eurogames, a European event that next year will arrive in Rome thanks to GAYCS. Celebic explained her organization's commitment to women's access to a traditionally male sport like football in the difficult Serbian context, while Klymenko talked about the work of the Fare network against racism and discrimination, in particular through inclusion tools , participation and visibility in major sport events. Lastly, for example the Diversity House during the World Cup in Russia.
Coco has instead had the opportunity to illustrate and discuss the first data emerged from the research on sports and LGBTI people that concluded the data collection last August. The analysis of the responses is still ongoing and will be the subject of the Mid-term Outsport conference scheduled in Glasgow in the coming days.