Outsport Final Conference: The Relevance of Sexual Orientation and Gender Identity in Sport – Budapest Nov. 8 2019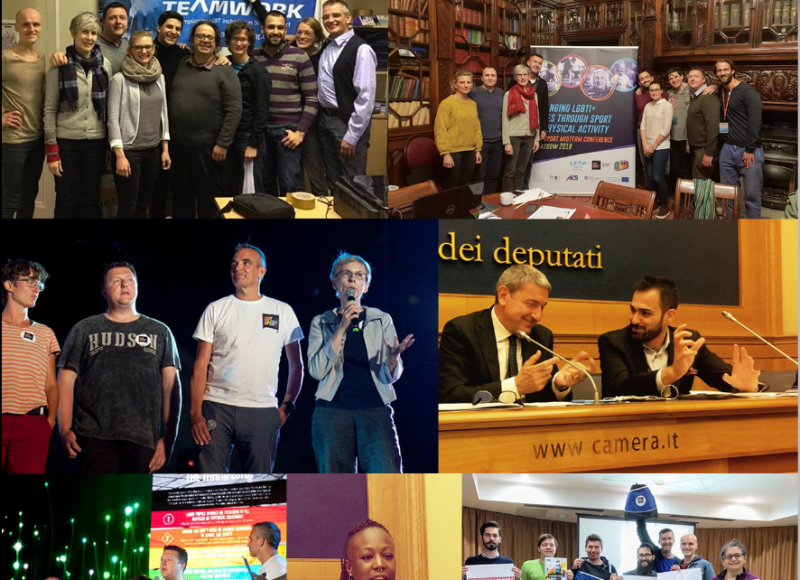 Decision makers, researchers, coaches, PE teachers and those from the field of equality and discrimination are warmly welcome to the Outsport final Conference, that will take place in Budapest November 8th 2019: "The Relevance of Sexual Orientation and Gender Identity in Sport – Outcomes of the first EU-wide survey on LGBTI people in sport"
One of the main project outcomes is the first EU-wide survey based on direct experiences of LGBTI people in sports. The report on the quantitative results are available here
This conference will present an analysis and will offer perspectives on these findings as well as introducing the second stage of the research. The second stage will include specific results for the project countries and will present qualitative outcomes of the research.
In the second part of the conference, the pedagogical area of the Outsport project will be presented, including a practical workshop on non formal education through sport based on the "Outsport Toolkit", designed as part of the project.
The final roundtable will involve relevant stakeholders and participants in an open discussion on future activities, partnerships and projects.
---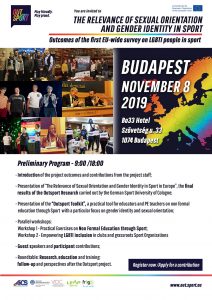 PRELIMINARY PROGRAM – 9:00 /18:00 – Bo33 Hotel, Szövetség u. 33,  1074 Budapest
– Introduction of the project outcomes and contributions from the project staff;
– Presentation of "The Relevance of Sexual Orientation and Gender Identity in Sport in Europe", the final results of the Outsport Research carried out by the German Sport University of Cologne;
– Presentation of the "Outsport Toolkit", a practical tool for educators and PE teachers on non formal education through Sport  with a particular focus on gender identity and sexual orientation;
– Parallel workshops:
Workshop 1 – Practical Exercises on Non Formal Education through Sport;
Workshop 2 – Empowering LGBTI inclusion in clubs and grassroots Sport Organizations
– Guest speakers and participant contributions;
– Roundtable: Research, education and training:
follow-up and perspectives after the Outsport project.
---
HOW TO PARTICIPATE 
Join us and our international guests from the world of sport, education, politics and media.
– Participation is free, you just need to register by completing this form until October 14 and then wait for our confirmation.
– Call for contributors: If you are interested in sharing your experience in the field please apply by completing the second part of the form and by submitting the whole request  until Sept 16. We will select 4 contributions for a speech/presentation during the event schedule.
Outsport started in 2017 as a project co-founded  by the European Commission within the framework of the Erasmus Plus Sport Program. Partners of Outsport are AICS (Coordinator, Italy), German Sport University (Cologne), LEAP Sports (Scotland), VIDC (Austria), FRIGO (Hungary).