Outsport Webinar 2022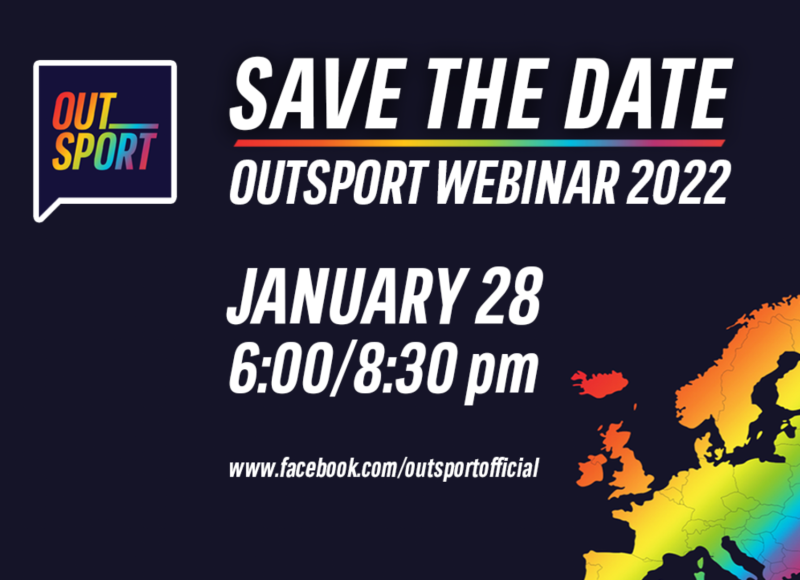 The rise of visibility. Upcoming challenges for LGBTIQ policies in Sport. 
Promoted by: AICS (Associazione Italiana Cultura Sport), Outsport Network 
Date: January 28th, 2022 18:00 – 20:30 (CET)
Venue: Online (Streamyard Platform) 
Accessibility: Public – Outsport social media and website
Participation: Moderated chat platform for Q&A
Language: English
The Outsport Network and AICS are pleased to announce the second edition of the Outsport Webinar. On January 28, 2022 we will sum up the most relevant facts and figures related to LGBTIQ and sport in 2021 and we will present the latest publication by the German Sport University of Cologne: "Sport, Identity and Inclusion in Europe: The Experiences of LGBTQ People in Sport". This book explores and critically assesses the challenges and experiences of LGBTQ people within sport in Europe, presenting in-depth comparative surveys of systems and experiences from Austria, Belgium, France, Germany, Hungary, Italy, the UK and Spain.
Furthermore, we will discuss the implications and the new perspectives brought by the latest IOC framework on fairness, inclusion and non-discrimination on the basis of Gender Identity and Sex Variations.
The webinar aims to gather institutions, NGOs and sports clubs from all over Europe. More info and detailed program coming soon.
Invited guests:   
EU Commissioner for Innovation, Research, Culture, Education and Youth – Mariya Gabriel
EU Commissioner for Equality – Helena Dalli
Head of SOGI Unit for the Council of Europe – Eleni Tsetsekou
Head of the Italian Department For Sport – Michele Sciscioli 
German Sport University Cologne – Professor Ilse Hartmann-Tews
EGLSF  – Sarah Townsend 
Outsports US – Cyd Zeigler 
FARE Network –  Ester Russel 
VIDC – Niki Staritz 
Representatives of NGOs and local sport organizations. 
Find the outcomes of the first edition 
Info: press@out-sport.eu