(English) #BoysDanceToo #TheDancingPrince – Wonderful responce of 300 dancers to offensive comments on Prince George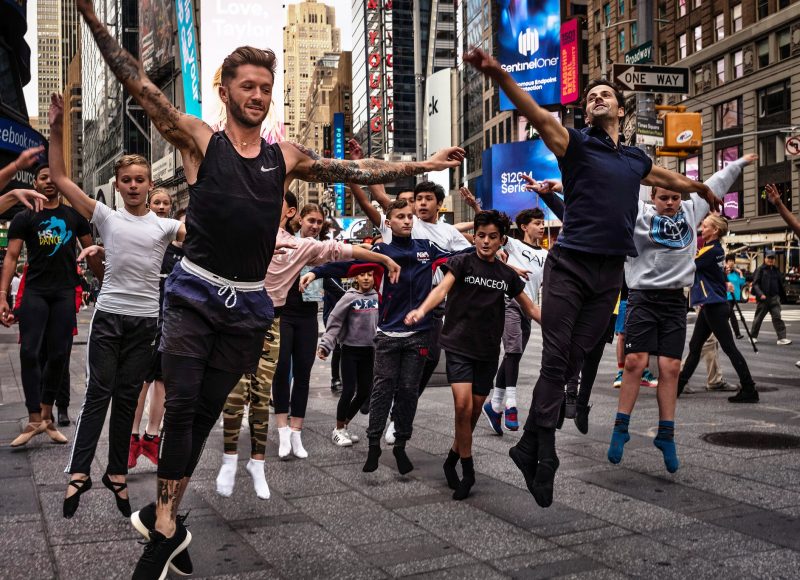 #BoysDanceToo, 300 dancers in Times Square, NY
On Monday morning, a strange sight overtook Times Square: A ballet class.
At about 7 a.m., around 300 dancers — boys and girls, men and women — took turns glissading across the concrete at 44th Street and Seventh Avenue, which was transformed into a scene from "Fame." Piles of dance bags formed mountains. Supporters held signs with messages like "#metutu," "Boys Dance Too" and "I Wish I'd Started at 6!!!" It wasn't confrontational, but it did make a statement.
The class was a response to Thursday's "Good Morning America,"on which Lara Spencer, a host, laughed at the news that Prince George was planning to study ballet. "We'll see how long that lasts," she said. On Monday, she apologized for her remarks.
"I screwed up, I did," she said. "The comment I made about dance was insensitive. It was stupid and I am deeply sorry."
The dance community was taken aback by the condescending comments and juvenile attitude of "Good Morning America" host Lara Spencer.
It started with Lara Spencer relaying the news of young Prince George's new class schedule, which happened to include ballet. She laughed and mocked the choice of ballet given to the future King of England. Why would she laugh at a boy who takes ballet?  Since our Instagram feed is almost all dance, this was on our favorite dancers' feeds condemning her for making fun of boy dancers. Her words were taken as bullying the young prince, something many male ballet dancers have experienced. But it's not just ballet, male dancers experience teasing to bullying because they happen to love to dance and be darn good at it.
But something positive came out of this. A beautiful protest – the impromptu "Good Morning Ballet" class in Times Square to support #BoysDanceToo.
The was the brilliant idea of dancers Alex D. Wong, Robert Fairchild, Charlie Williams and Sam Quinn. Travis Wall, the Emmy Award-winning choreographer for "So You Think You Can Dance," and artistic director of the dance company Shaping Sound, led the 300-person ballet class in a beautiful display of strength.